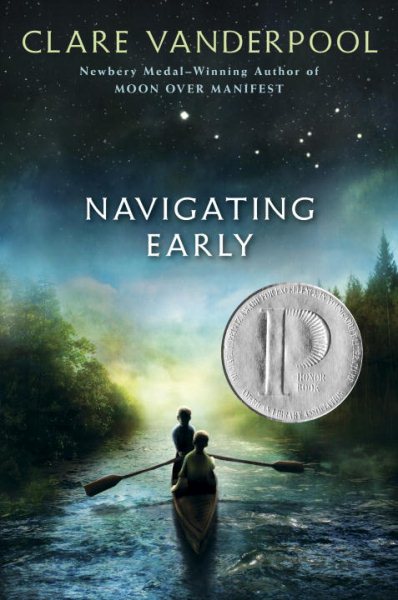 Navigating Early – by Clare Vanderpool
This story is set in 1945 and the beginning of this story is about Jack and his calm life with his mother in Kansas, awaiting his dad's return from the war front. But his mother dies and his father, unable to deal with the loss of family, sends Jack away to a boarding school in Maine. At this boy's prep school, he befriends the school's oddest student, Early. Jack learns that Early's older brother attended the same school where he had broken all sorts of athletic records.
Jack and Early become fast friends and together they "borrow" the boat that Early's brother had mastered. A little explanation – Notice the title Navigating Early, as in boating with his friend Early and steering him through this quest. During their December break, they take off for the Appalachian trail with their quest being to hunt down the great black bear.
Like all adventures there are all sorts of people on the way who are there to help and/or hinder them. The conclusion has a great surprise that puts neatly together all the adventures that Jack and Early go through together. This is why it won the Prinz Award.
-Gary B.