A Way to Garden: A Hands-On Primer for Every Season
Margaret Roach
I'm a beginning gardener, and could not be more glad to have been given this book recently. Roach guides you through the gardening year (flower and vegetable) two months at a time. Among the variety of information and tips I've enjoyed on first read is the author's suggestion that you step back inside your house and consider the view from there as you decide what to plant and where. And I'm grateful for a section titled "Taxonomy Lite" on the basics of botanical Latin. Roach's own enthusiasms, as for gold foliage, are catching, and have me considering plants I might not otherwise. Her book is a blend of practical advice, idiosyncratic opinions, and stories of hard-earned gardening wisdom, such as you might be told on a private tour with a master gardener. It's also lavishly illustrated with photographs of Roach's Hudson Valley garden, featuring not only plants but creatures too. A number of frogs all but wink at you as you turn the pages.
Ken Druse
I didn't realize when I came by this book simultaneously with Margaret Roach's that the authors are longtime friends, but I'm not surprised to learn it; their books are simpatico. Here the topic is more focused, but again the text offers a blend of practical guidance and inspirational musings. And then there are the photographs—the photographs! Almost five hundred of them. You will wish you had more shade, not less, in which to plant this astonishing array of plants. Shade here is not a problem but an opportunity: to work closely with nature to create places of calm and refuge and even magic in your yard. Druse inspires me to give foliage its due, to look past flowers (though there are plenty of plants that flower in the shade) and consider more closely leaves and the structures of plants, to study the woodlands as I hike our area trails and let my observations inform my garden making. A shade garden might include fallen logs, moss-covered rocks, or a little pool, and native plants and wildflowers will always be welcome.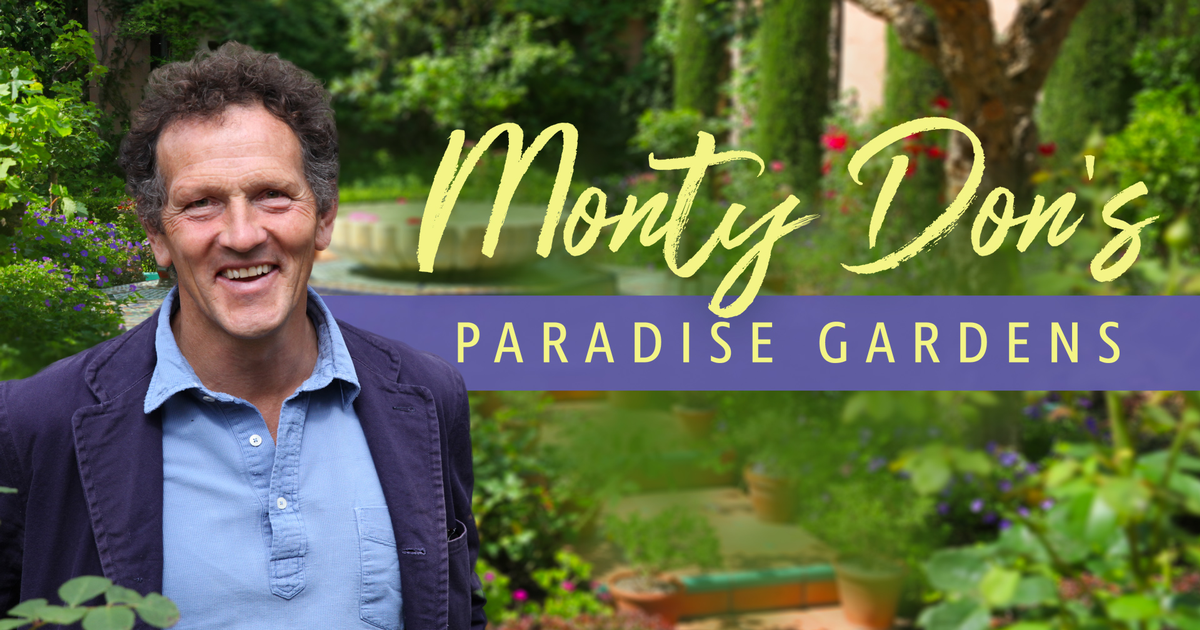 Monty Don's Paradise Gardens: Planting Heaven on Earth
(available on Acorn TV via RB Digital Streaming Video)
If you are not yet acquainted with Monty Don, you cannot start getting to know him soon enough, I say! Monty is a major celebrity in the UK, due to his being the lead presenter of a BBC gardening show; he's also produced a vast array of other gardening programs which you can access on Netflix, Amazon Prime, and just by searching YouTube. This particular program is accessible via the Howe's access to Acorn TV. I am an unabashed fan of Monty's. He is a gardening guru like no other—a most erudite imparter of gardening wisdom and knowledge, of unassuming manner, yet with unquestionable command of his subject. And he cuts rather a dash with his unfussy elegance and his ubiquitous scarves. I'm not his only admirer: in 2018, the Queen made him an Officer of the Order of the British Empire in recognition of his horticultural broadcasting and promotion. In this program, Monty tours the paradise gardens of the Islamic world, beginning in Spain and traveling on to Morocco, Iran, Turkey, and India, ending back in the UK for a look at the influence Islamic gardens have had there. Paradise gardens are rich with symbolism, scent, and cooling waters. I dare you to watch this and not be intrigued by them—and by the fabulous Monty! 
-Kirsten G.