The Poacher's Son: (Book, E-Book & E-Audiobook)
The Poacher's Son – Newly sworn in Maine Game and Fish Warden, Mike Bowditch is thrust back into his dysfunctional family's past when he receives a troubling message on his answering machine from his poacher father.  The next morning the police call Mike with more bad news:  they're searching for his father who is the prime suspect in the killing of a well liked local police officer.  With little sympathy, let alone help, from the local community, Mike sets out to discover whether or not his father is, indeed, a murderer.  Will Mike be able to find a balance between his commitment to family and his support for the law?  Will he be able to save his father by finding the real murderer?  The Poacher's Son is both a thoughtful and tension filled debut in this series.  Mike Bowditch is a skillfully realized character — young, willful, conflicted and likely to grow as this series progresses.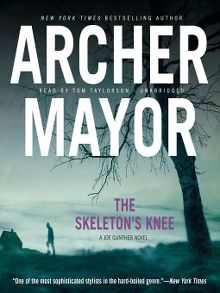 The Skeleton's Knee: (Book, E-Audiobook)
 
Brattleboro based police lieutenant, Joe Joe Gunther, has a strangely "cold" case to solve.  A local market gardener has fallen victim to a twenty year old bullet wound.  The victim, Abraham Fuller, isn't well known in the community, having preferred a private existence on his hardscrabble land.  When another body is discovered on Fuller's land, along with a bag full of money, Joe begins to wonder if his victim has other buried secrets as well, and if someone was willing to kill in order to keep those secrets buried.  As with other entries in this series, the careful attention paid to the development of Joe's character and those of his fellow officers makes reading this mystery a very satisfying experience. 
 

A Borrowing of Bones: (Book, E-Audiobook)
 
Mercy Carr has returned from her last deployment wounded in both body and spirit.  Her boyfriend was killed and his bomb sniffing dog, Elvis, whom Mercy has adopted, are both struggling to regain a sense of normalcy while they recuperate in the Vermont woods.  Rural quiet is short lived, however, when Elvis alerts to explosives during a walk and Mercy discovers an abandoned baby in the woods.  U.S. Game Warden Troy Warner and his search and rescue Newfoundland, Susie Bear, respond to Mercy's 911 call, and the four combine their skills and resources to track down the missing mother, solve a murder, and restore some calm to their small Vermont community.  Another series debut, A Borrowing of Bones, overcomes some first book awkwardness by introducing readers to engaging new characters, both human and canine. 
-Marilyn B.